Dengue
Dengue is the most common arthropod-borne viral (Arboviral) illness in humans.
Etiology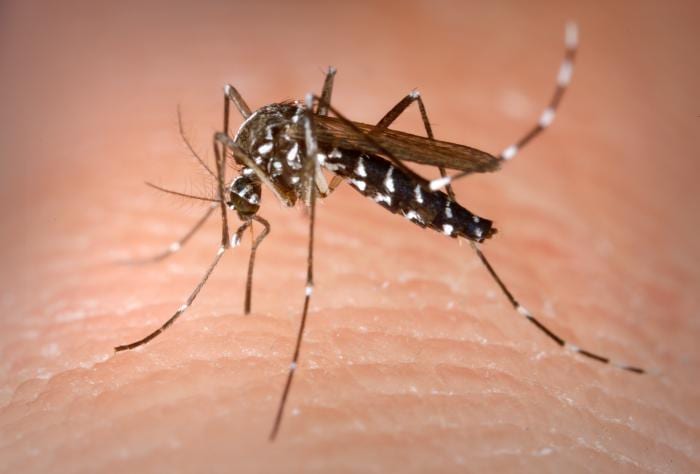 Dengue infection is caused by dengue virus (DENV), which is (Flaviviruses) a single-stranded RNA virus.
The dengue virus has 4 related antigenically distinct serotypes: DENV-1, DENV-2, DENV-3, and DENV-4.
Infection with one dengue serotype confers lifelong homotypic immunity to that serotype.
Dengue is transmitted by mosquitoes of the genus Aedes, which are widely distributed in subtropical and tropical areas of the world.
Case definition:
An acute febrile illness of 2 – 7 days duration with 2 or more of the following:
1 – Headache.
2 – Retro-orbital pain.
3 – Myalgia.
4 – Arthralgia.
5 – Rash (maculopapular or macular).
6 – Hemorrhagic manifestations (e.g., nose or gum bleed, petechiae, or easy bruising).
7 – Leucopoenia with lymphocytosis.
8- Thrombocytopenia.
9 - High haematocrite.
Probable Dengue
*Live in / Travel to Dengue endemic areas.
*Fever and 2 of the following criteria:
-Nausea, Vomiting .
Rash (maculopapular or macular). -
Aches and Pain. -
-Tourniquet test positive .
-Leucopenia .
Warning signs
1- Abdominal pain or Tenderness.
2- Persistent vomiting.
3- Clinical fluid accumulation .
4- Mucosal bleeding.
5- Lethargy, restlessness.
6- Liver enlargement more than 2 cm.
7- Laboratory: increase in HCT concurrent with rapid decrease in platelet count.
Criteria For Sever Dengue
*Sever plasma leakage
Leading to:
Shock (Dengue shock syndrome). -
Fluid accumulation with respiratory distress -
*Severe bleeding .
*Severe organ involvement.
Liver: AST or ALT > = 1000.
CNS: Impaired consciousness.
Dengue shock syndrome
Findings of dengue shock syndrome include the following:
• Hypotension.
• Bradycardia (paradoxical) or tachycardia associated with hypovolemic shock.
• Hepatomegaly.
• Hypothermia.
• Narrow pulse pressure (< 20 mm Hg).
• Signs of decreased peripheral perfusion.
Dengue Virus: Detection, Diagnosis and Control (Virology Research Progress)
GET IT HERE
Diagnosis
Because the signs and symptoms of dengue fever are nonspecific, attempting laboratory confirmation of dengue infection is important.
CBC:
Leukopenia and Thrombocyosis.*
Thrombocytopenia.*
*A hematocrit level increase greater than 20% for age and sex.
Metabolic Panel and Liver Enzyme
s
Hyponatremia is the most common electrolyte abnormality in patients with dengue hemorrhagic fever or dengue shock syndrome. Metabolic acidosis is observed in those with shock and must be corrected rapidly.
Transaminase levels may be mildly elevated.
Coagulation Studies
Coagulation studies may help to guide therapy in patients with severe hemorrhagic manifestations. Findings are as follows:
• Prothrombin time is prolonged.
• Activated partial thromboplastin time is prolonged.
• Low fibrinogen and elevated fibrin degradation product levels are signs of disseminated intravascular coagulation.
Serum Studies
• Real-Time PCR.
• viral isolation.
• The IgM capture ELISA.
• Complement fixation (CF).
• Neutralization test (NT).
• Hemagglutination inhibition (HI).
• IgG ELISA.
Treatment:
No specific antiviral medication is currently available to treat dengue. The treatment of dengue fever is symptomatic and supportive in nature. Bed rest and mild analgesic-antipyretic therapy are often helpful in relieving lethargy, malaise, and fever associated with the disease. Acetaminophen (paracetamol) is recommended for treatment of pain and fever. Aspirin, other salicylates, and nonsteroidal anti-inflammatory drugs (eg: VOLTAREN) should be avoided.
Patients with dengue hemorrhagic fever or dengue shock syndrome may require intravenous volume replacement. Plasma volume expanders can be used in patients who do not respond to isotonic fluids.
NB:
1- The mosquito can transmit dengue by bite human. In addition, transmission occurs after 8-12 days of viral replication in the mosquito's salivary glands (extrinsic incubation period)
2- The mosquito remains infected for the remainder of its life. The life span of A aegypti is usually (15-65) days.
3- The virus does not adversely affect the mosquito.
4- Vertical transmission of dengue virus in mosquitoes has been documented so it is very difficult to eradicate the Dengue.
5- Once inoculated into a human host, dengue has an incubation period of (3-14) days (average 4-7 days).
6- The Aedes aegypti live indoor on Drinking water and not in salt water.
QUESTIONS:
#@ Why Dengue transmitted by FEMALE Aedes aegypti and not by male??
# @ Are male Aedes aegypti bite human ?? and Why??
#@ why this mosquito named by Aedes aegypti??
#@ Are Dngue virus can be transmited by human to human via needle-stick injuries??
this topic prepared for doctors working in Gizan area in Saudia arabia
if you interested you can read this book(recommended)
Dengue Virus: Detection, Diagnosis and Control (Virology Research Progress)


GET IT HERE
Regards